With your help we can achieve the ambitious goal of #100PercentLiteracy for Tasmania by 2030.
At Connect42 we believe every Tasmanian, no matter their age, background or lived experience deserves a choice and a voice, and that with the right communication skills, everyone can live whole-hearted and productive lives. Did you know that only one in two Tasmanians of working age are functionally literate?
That means that half our population do not have sufficient reading, writing, or language comprehension and expression skills, to manage their daily lives and function fully in their communities. For people with low literacy, information on medicine bottles, in recipes, maps and on the internet may be difficult to access. This impacts people's capacity to find a job, understand public health messages, navigate government services, and build meaningful connections with others.
We know that positive language and communication is the key to healthy and successful living and the doorway to connected relationships, education, and employment.
A literate Tasmania for Just $42
We need your help to extend our programs and our reach with more highly trained people to work with our most vulnerable communities across the state.
Share the journey to 100% literacy with your friends and colleagues and join our Just $42 Challenge this financial year! Whether it is a single donation or regular monthly giving, your gift will make a difference to shifting the dial towards 100% literacy in our beautiful island state.
Evidence-based programs
Connect42 language and literacy programs support disadvantaged and vulnerable people in our community. They are award winning, evidence-based - and they work.
An adult can build from low literacy to functional literacy in four months with a Connect42 program. Professional tuition for these programs costs an average of $4200 per participant. Your donation can support this work.
We've seen this work change lives through Connect42 programs such as Ground Level Literacy, Just Sentences and Sound Systems. Happy participants from Sound Systems comment:
'I know I wouldn't have my driver's licence now if it wasn't for this program'
'I can help my kids with their reading and writing'
'My friend told me she can understand my text messages better now'
If passionate Tasmanians like you join our Just $42 Challenge and give monthly to our mission, or make a generous donation at tax time, we can collectively contribute to achieving 100% literacy in Tasmania and a better life and increased community safety for all.
Help us reach our goal of 100 regular gifts by the end of June. Connect42 in a DGR1 charity, so your donation is fully tax deductible. CLICK to give and please share our QR code below with your friends. If you'd like to learn more then send us an email to hello@connect42.org, we'd love to connect with you.
Thanks for your interest and generosity.
Emma Sells, Rosie Martin and the Connect42 team.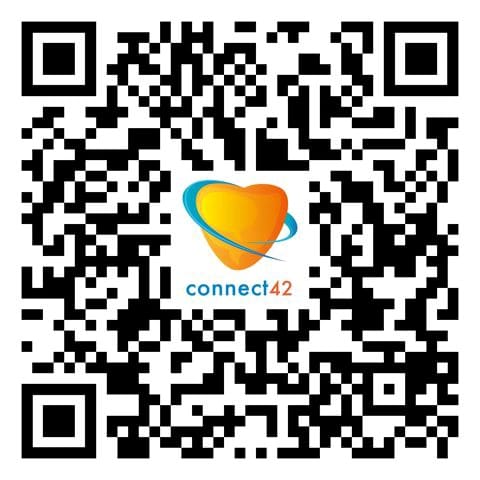 Connect42
PO Box 4555 | Hobart | TAS |7000
Facebook
@Connect42_
#100PercentLiteracy